Champion Alncroft Blackthorn "Brody"


10

CC's,

6

with BOB



5

RCC's



Dog World Top Stud Dog 2013, 2014 & 2015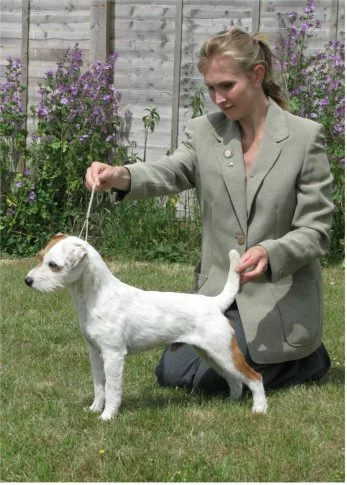 Brimpton Trust x Ch Pacolito Phantastic at Alncroft
Born 7th July 2009
Brody has been semi-retired from the show ring but his progeny have taken up the reins. Seven of his offspring have won CC's or RCC's and so far he has sired 5 Champions. His progeny include Ch Alncroft In Gold, Ch Alncroft I Spy, Ch Riplington Black Cherry (Syd, Di and Steph Collis) Ch Alncroft Sovereign at Lyonmill (Nicola Liddell) and Ch Alncroft Maid an Issue at Springbeck (Gill and Martin Sutton) and Alncroft Imperial (2 RCC's) owned by Avril & John Sturdy.
Brody gained his championship title at Southern Counties 2011 under Michelle Barnett.
He was out of Buzz's very first litter, by Brimpton Trust and is a larger than life character to say the least. A right little show off and a joy to own and show.
Brody had a fantastic puppy career winning 2 CC's & 1 RCC. He won his first CC with BOB at just 9.5 months old at one of his first outings under breed specialist Patrick Dooner (Jappatin) at WELKS Championship Show, April 25th 2010.
Brody won his 2nd CC and BOB under all-rounder and terrier specialist Martin Phillips (Jaeva) just before his 1st birthday at Windsor Championship Show, 2nd July 2010. His 3rd CC with BOB came at Southern Counties with daughter Zara winning the RBCC and BPIB! His seventh and eighth tickets came in 2013, both times doing the double with his daughter Sadie.
Brody is a lovely boy to live with, such a show off but daft as a brush too and a real mummy's boy!
"Fabulous throughout, excellent head and ear placement, good lay of shoulder and coat, correct tailset, good angulation to rear, correct size and good bone for size, moved well, CC & BOB & BPIB" - Judge Patrick Dooner (Jappatin).
"Excited me for overall quality & type, must have a strong future, not only in his breed but also could hold his own in any terrier competition. Correct head, eyes and ears, text book front & rear assembly. Tip-top form, looks at you right, all the time. Well handled, CC, BOB & BPIB" - Judge Martin Phillips (Jaeva).
Major awards to date -
WELKS 2010 - CC & BOB & BPIB (Patrick Dooner)
Windsor 2010 - CC & BOB & BPIB (Martin Phillips)
East of England 2010 - RCC (Eileen Needham)
Southern Counties 2011 - CC & BOB (Michelle Barnett)
East of England 2011 - CC & BOB (Roger Wright)
Manchester 2012 - CC & BOB (Kari Jarvinen)
East of England 2012 - RCC (Zena Thorn-Andrews)
Midland Counties 2012 - RCC (Ferelith Somerfield)
LKA 2012 - CC and BOB (Paul Wilkinson)
Bournemouth 2013- CC (Tom Johnston)
SKC Aug 2013- CC (Karen Rimmer)
DCC & RBIS (his daughter the BIS winner!) - NPRTC (Ronnie Irving)
Brody was out of Buzz's first litter which was sired by Brimpton Trust. Many thanks go to Charlotte Glynn for allowing us to use Brimpton.
Pedigree
Alncroft Blackthorn

Brimpton Trust

Jagen Johny Riplington
Heythrop Trustie
Ch Pacolito Phantastic at Alncroft
Alne Hark Forrard
Windynook Weave Ya Spell
Below - Brody at WELKS 2010
DCC & BOB at 9.5 months old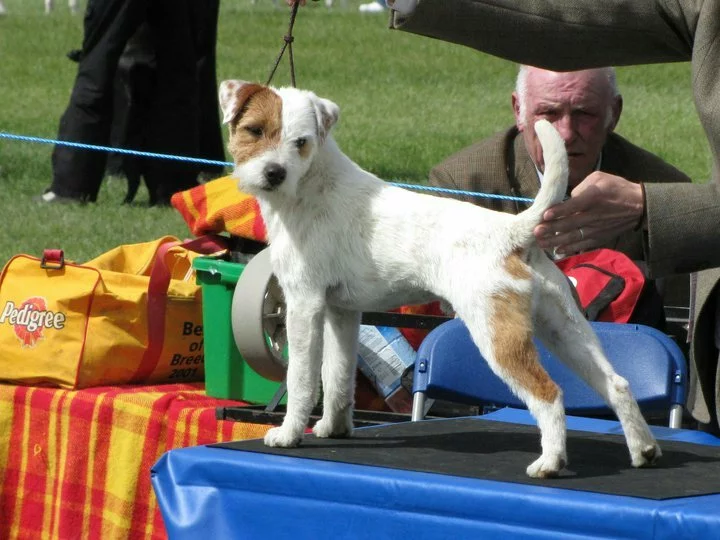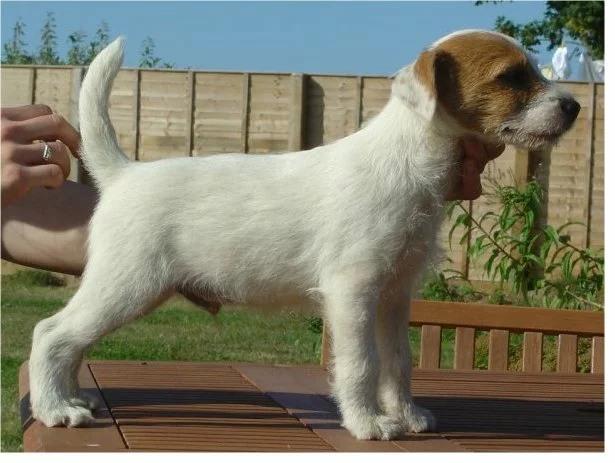 Above pictured at 12 weeks and below with our eldest Jessica with his littermates in the Summer of '09