Champion Alncroft I Spy "Sadie"
Breed CC Record Holder!
31 CC's
&
3
RCC's
TOP PRT (DW/Arden Grange) 2015 & 2013
Top Bitch 2013, 2014, 2015, 2016
Best of Breed at Crufts 2014 & 2017
Terrier Group 2 - Southern Counties 2015 & G4 2016
Terrier Group 3 - National Dog Show 2017

Ch Alncroft Blackthorn x Alncroft Ambleside
Born 28th April 2011
Sadie is full sister to Zara (from the repeat mating), Lexie & Ada. At her very first show, the Parson Russell Terrier Club Championship Show 2011, Sadie thoroughly enjoyed herself and won Minor Puppy Bitch, Puppy Bitch, the reserve Bitch Challenge Certificate (thus her stud book number) and Best Puppy In Show! Thank you so much to judge Steph Collis for making it a day to remember!
After her debut at the PRTC Champ show, Sadie won BPIB at Manchester (where her sire Brody won the DCC and BOB) and 1st in her first Junior bitch class at WELKS Championship show. Sadie went onto win her first CC at East of England under Zena Thorn-Andrews and her sire Brody won the RDCC.
Sadie wasn't shown again for three and a half months until Midland Counties under another respected all-rounder Ferelith Somerfield. She won her second CC and BOB and was shortlisted in the terrier group under Ann Ingram. Her sire Brody (Ch Alncroft Blackthorn) was RDCC.
Sadie was Dog World's and the PRT Club's Top PRT 2013 and very excitingly, Best of Breed at Crufts 2014 under breed specialist Lesley Roberts and Terrier Group 2 at Southern Counties 2015!
She has achieved the Challenge Certificate double with her sire twice in 2013 and twice in 2015 and the bitch CC record following her BIS win at the Northern PRTC Championship Show 2015!
Sadie broke the breed CC record at Midland Counties 2016 under Michelle Barnett, handled by our 10 year old daughter Jessica and followed it up with her second BOB at Crufts (2017) under renowned Terrier expert, Max King.
Sadie is wonderful to live with, such a character, full of fun which she displays with enthusiasm at shows!
2017
CC & BOB - Welsh Kennel Club (Roger Thomas)
CC - Bournemouth (Jeff Horswell)
CC - East of England (Martin & Phillips)
CC & BOB - National Champ Show (Roger Bigland) & Group 3 under Max King!
CC & BOB - Crufts (Max King)
2016
CC & BOB - Midland Counties (Michelle Barnett) her CC record breaker handled by Jessica! (aged 10)
CC & BOB - Richmond (Jill Peak)
CC - Welsh Kennel Club (Jenny Miller)
CC & BOB - Leeds (Norina Evans)
CC & BOB - Windsor (Colin Powell)
CC & BOB - Southern Counties (Eileen Needham) & Group 4 under Espen Engh!
CC - WELKS (Sara Nixon)

2015

CC & BOB - Midland Counties (Stuart Plane)
CC & BIS - NPRTC Championship Show (Ronnie Irving)
BCC - Richmond (Brian Aubrey)
BCC - Leeds (Jan Wood)
CC & BOB & Terrier Group 2 - Southern Counties (Kari Jarvinen & Johan Juslin)
CC and BOB - Windsor (Max King)
RBCC - National Terrier (Steph Collis)
2014

CC and BOB – Crufts (Lesley Roberts)
CC and BOB – WELKS (Peter Julian)
RBCC – National Dog Show (Marion Reeves)

CC and BOB - Windsor (David Hunt)
2013
BCC and BOB - WELKS (Jack Watson)
BCC and BOB – Windsor (Harold Gay)
BCC – East of England (Arthur Cuthertson)
BCC and BOB – Bournemouth (Tom Johnston)
BCC and BOB – Welsh KC (Harry O'Donoghue)
BCC and BOB – SKC (Karen Rimmer)
BCC and BOB – Richmond (David Shields)
BCC and BOB – Darlington (Jeff Luscott)
2012
Best Puppy in Breed - Manchester (Kari Jarvinen)
BCC - East of England Championship Show (Zena Thorn-Andrews)
BCC & BOB - Midland Counties Championship Show (Ferelith Somerfield)
1st Limit Bitch - LKA (Paul Wilkinson)
2011
Best Puppy In Show and RBCC - PRTC Championship show (her 1st show!)
Pedigree
Alncroft I Spy

Brimpton Trust

Alncroft Ambleside

Alncroft Polar Bear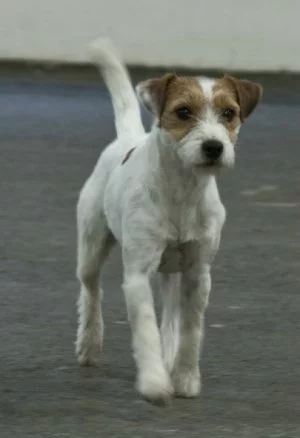 Sadie at Midland Counties (BCC and BOB)
Photo courtesy of George Blair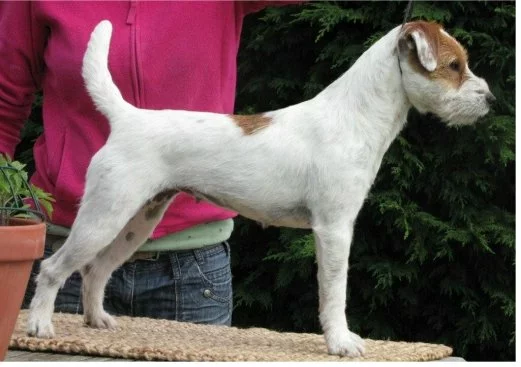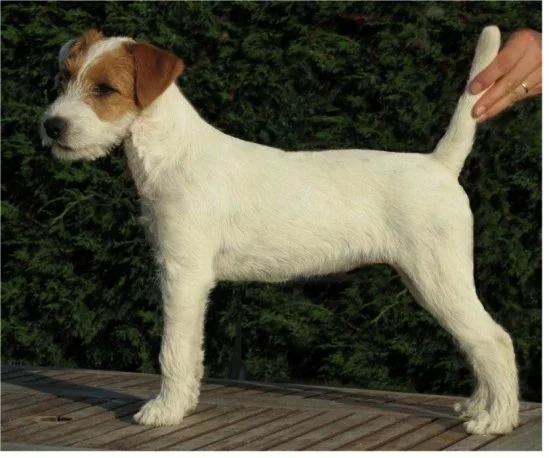 Above and below, Sadie pictured at 3 months