Champion Alncroft Tribute to Riplington "Cola"
4 Challenge Certificates, 2 Reserve Challenge Certificates
Dog World/Parson Russell Terrier Club
Top PRT Bitch UK 2008
BCC at Crufts 2013 (under breed specialist Sheila Atter)
Cola is owned by the late Di, Sid and Steph Collis (Riplington)
Photo by permission of Yoshiko Fukao taken at Crufts 2008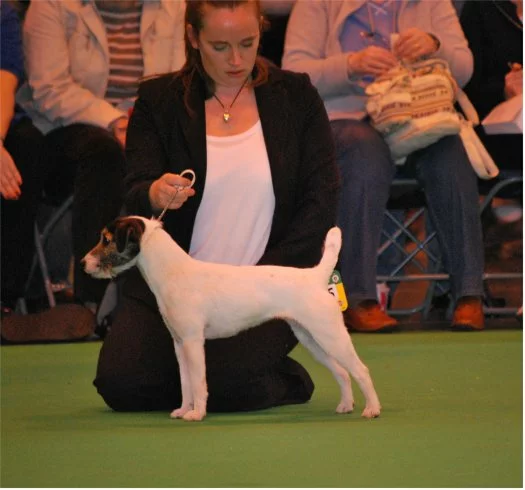 Jagen Johny Riplington x Ch Alne Foxglove
Born 26th February 2007 (pictured at Crufts 2008, at just over a year of age)
Twice Bitch CC and Best In Show winner of the Parson Russell Terrier Club Championship Show!
RBCC CRUFTS 2011 under breed specialist, Harold Gay!
She is litter sister to Alncroft Everlong and Alncroft Hemlock of Morgandare. She was bred out of Ch Alne Foxglove (Clover) and by Jagen Johny Riplington (owned by Di, Syd and Steph). At her first Championship Show (Richmond '07) Cola was Best Puppy In Breed.
She has gone onto numerous wins including twice Best in Show winner of the Parson Russell Terrier Club Championship Show (2008 - judge Kevin Moore, 2010 - judge - Sheila Atter).
Her first CC came at WELKS 2008 followed by BOB at Three Counties Championship Show. Cola won her 2nd CC at Richmond Championship Show 2008 under judge Alan Small.
In 2009 Cola was placed 2nd in a huge Open bitch class at Crufts and won the RCC to her litter sister Sally at WELKS.
Cola produced the champion bitch; Riplington Black Cherry sired by Champion Alncroft Blackthorn, for her owners Steph Collis and the late Di & Sid Collis.
Pedigree
Ch Alncroft Tribute to Riplington

Jagen Johny Riplington
Ch Howlbeck Izzy Rite For Jagen
Jagen Fire and Ice
Ch Alne Foxglove
Ch Alne Artic Fox
Ch Winnie The Witch Of Hardytown