Champion Alncroft Tussle
'Coco'
CURRENT LEADER - TOP PRT COMPETITION 2018!
Our Dogs/Arden Grange Top PRT 2017!
11 CC's, 9 BOB & 3 RCC'S
The first Parson Russell Terrier in breed history
to have won Best in Show at
both breed club Championship Shows in the same year!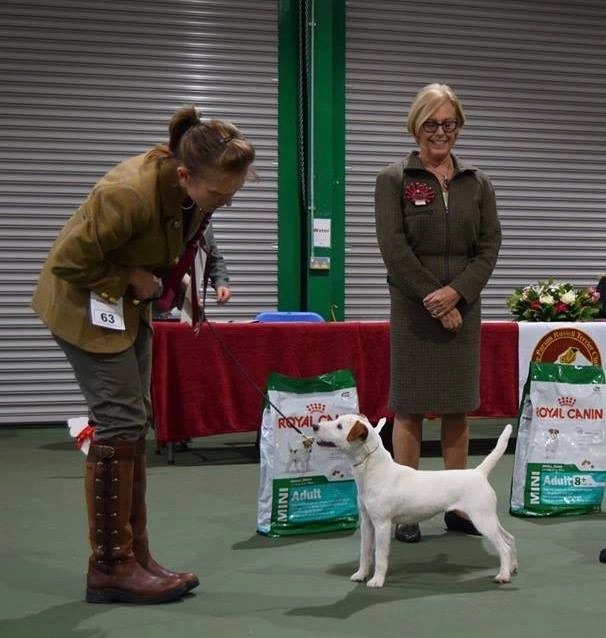 Born 28th September 2015
Multi Ch Jappatin Charlie Fox x Ch Alncroft in Gold
Coco was out of Zara's second litter by Multi Champion Jappatin Charlie Fox. She attended her very first show as a 14 month old at the end of 2016 and won the bitch CC and Reserve Best in Show under breed specialist Lesley Roberts (Mindlen)! She began 2017 with a bang winning her second CC & BOB under Paul Wilkinson. She has since enjoyed a wonderful year in the show ring, the highlights being Best in Show under Patrick Dooner at the Northern Club Championship Show handled by our eldest daughter Jessica Smith (aged just 11!) and BIS at the Parson Russell Terrier Club 21st Anniversary Championship Show 2017 under breed specialist Jan Wood (Ardencote). Huge thanks to Janine & Patrick Dooner (Jappatin) for allowing us to use Riley (Charlie Fox) to produce the lovely Coco and her sister Nettle (Alncroft Isle See), owned & shown by Dean Hobson.

Coco gained her crown at Leeds 2017 under breed specialist Brian Aubrey. We wish to thank Brian for thinking so highly of her and for the most wonderful critique! -

"Open Bitch 1st ALNCROFT TUSSLE. Well what can I say about this one. It is every judges dream to see a dog/bitch in front of him/her with this quality, all I thought was wow I have judged this exhibitor's dogs on many occasions but for me this is her best to date and she has bred some stunners. Tan/tri on ears, very strong feminine head, lovely placed ears, darkest of eyes, strong underjaw, narrow front standing on strong bone, lovely feet, correct neck leading into correct shoulders, good length of back, in A1 jacket loose pelt, strong muscled thighs good bend of stifles hocks set low I could go on and on about her no hesitation on giving her the CC and BEST OF BREED. Told afterwards this was her third CC and the latest champion; made my day" Brian Aubrey
AWARDS TO DATE:
BCC - Southern Counties 2018 (Sara Nixon)
CC & BOB - National Dog Show 2018 (Ronnie Irving)
BCC & BOB - WELKS Ch Show 2018 (David Shields)
RCC National Terrier 2018 (Margaret Hooley)
RCC - Manchester Ch Show 2018 (Stuart Plane)
BCC & BIS - Parson Russell Terrier Club Champ Show 2017 (Jan Wood)

BCC & BIS - Northern PRTC Champ Show 2017 (Patrick Dooner) handled by Jessica!

BCC & BOB - Midland Counties Ch Show 2017 (David Hunt)

BCC - Darlington Ch Show 2017 (Moray Armstrong)

BCC & BOB - Paignton Ch Show 2017 (Tom Johnston)

BCC & BOB - Leeds Ch Show 2017 (Brian Aubrey)

RCC - National Champ Show 2017 (Roger Bigland)

BCC & BOB - Manchester Ch Show 2017 (Paul Wilkinson)

BCC & RBIS - PRTC Championship Show 2016 (Lesley Roberts) - Her first ever show!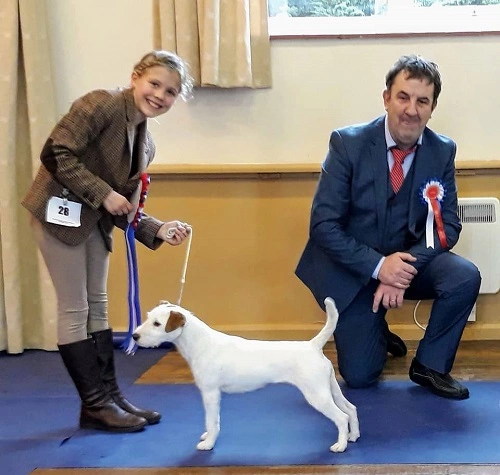 Jessica handling Coco to BIS at the NPRTC Champ show 17 under Patrick Dooner!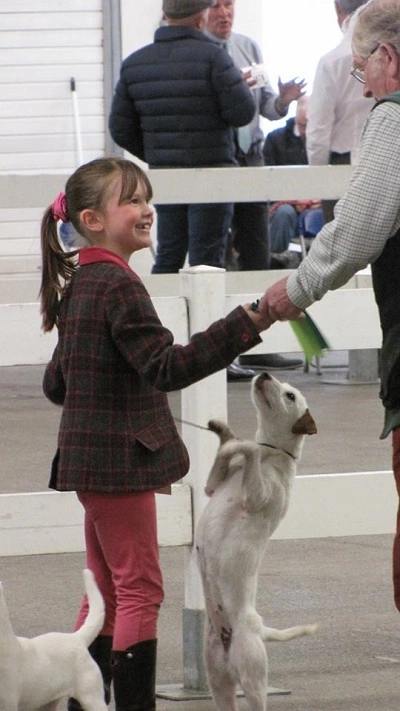 Amelie handling Coco to the RBCC under Roger Bigland at The National 2017!

Champion
Alncroft
Tussle

Multi Ch Jappatin
Charlie Fox

Dextor's Midnight Runner

Jappatin Miztake