Drakesleat Bahn Anna "Anna"
3 Reserve Challenge Certificates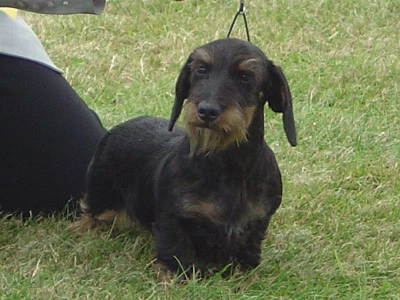 12th January 2006 ~ 21st June 2018
Anna was our first Miniature Wire-Haired Dachshund and an absolute joy to live with. Bred by Zena Thorn-Andrews (Drakesleat). She settled in amongst the terriers in no time at all always keeping up with their antics, keeping that finely-tuned nose employed!
Anna was only shown as a youngster but was always a much loved family member so it was with a very heavy heart that we had to say goodbye to such a special friend in June 2018. She will always be sorely missed but never forgotten x
1st Post Graduate Bitch and RCC - Dachshund Club 2007 - Judge J Blandford
1st Junior Bitch & Reserve Bitch CC - SKC (May) 2007 - Judge Mrs A Moore
1st MPB & Reserve Bitch CC - City of Birmingham 2006 - Judge Edna Cooper
Best Puppy Bitch - Paignton 2006 (her debut show) - Judge Derek Smith
Best Puppy in Breed - Houndshow 2006 - Judge Ann Kennedy
Pedigree
Drakesleat Bahn Anna
Champion Drakesleat Otto Bahn
Champion Drakesleat Ris Otto
Champion Drakesleat Lettuce Pray
Champion Dunns Pitts Kwite Kute Drakesleat
Champion Drakesleat Ris Otto
Dunnspitts Xparagrass
A huge thank you goes to Zena Thorn-Andrews and Jeff Horswell for letting us have Anna and more recently, Ch Drakesleat Von Der Full.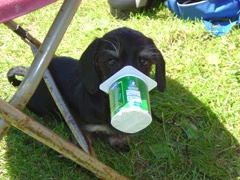 Anna enjoying a yoghurt,
at her first show!