Champion Alncroft Everlong "Sally"
3 CC's & 3 RCC's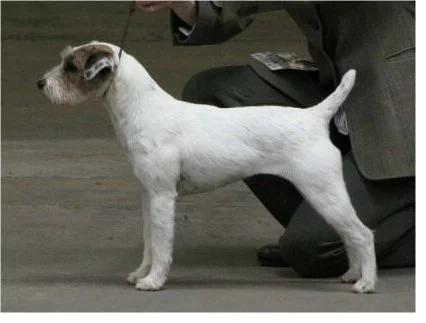 Jagen Johny Riplington x Ch Alne Foxglove
Born on the 26th February 2007 (pictured at 3 years)
13 & 3/4" at the shoulder
GAINED HER TITLE AT LKA DECEMBER 2010 under Brian Aubrey, which makes Sally the 3rd Champion daughter of Clover. Many thanks to Brian Aubrey and all the other judges who have thought so highly of her.
Known as Sally to her friends,she too is enjoying her retirement. She takes after her mother Champion Alne Foxglove in more ways than one! A 'proper' terrier who although loves her showing, certainly knows what her true role in life is!
Her first CC with BOB came at WELKS, 25th April '09 where litter sister Cola won the RBCC and litter brother Tack won the RDCC under Roger Bigland (Heythrop). She won her second CC at Southern Counties Championship show (see news).
"A real quality bitch, excellent head, good topline, correct tailset, well laid back shoulders giving good front and feet, superb movement, handled with panache" BCC & BOB - WELKS - Roger Bigland
"Beautiful outline and balance, good over the shoulder with a smart shape, attracts and alert in head with a clean length of neck. She's an excellent and true mover with a good pelt and coat cover" 1st Limit Bitch - PRTC Champ Show - Jeff Luscott
Her litter brother Alncroft Hemlock at Morgandare (owned by Carol and Jess Lumbard) and litter sister Champion Alncroft Tribute to Riplington (owned by Di, Syd and Steph Collis) have also proved themselves in the showring including Tribute having won 4 CC's and 1 RCC, including twice BIS at the PRTC Champ show.
The litter was the result of the 'Clover x Johnny mating'. Many thanks to Di, Syd and Steph Collis (Riplington) for allowing us to use Johnny.
Pedigree
Alncroft Everlong/Tribute/Hemlock
Born 26/02/07

Jagen Johnny Riplington

Ch Howlbeck Izzi Rite for Jagen

Jagen Fire and Ice

Champion Alne Foxglove

Ch Winnie the Witch of Hardytown
Sally pictured at 14 months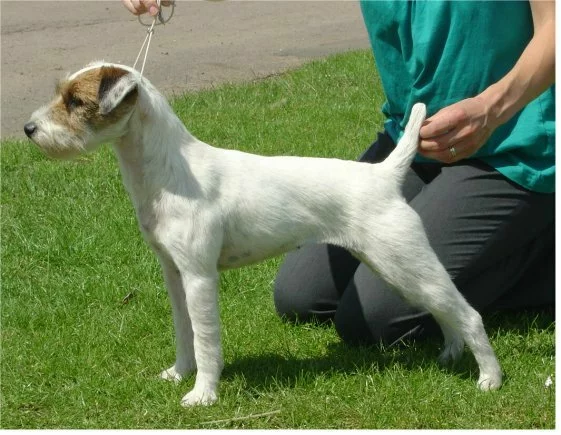 Sally at 5 months old enjoying a lie-down after some gardening! ..... and a photo at 14 weeks up in Scotland.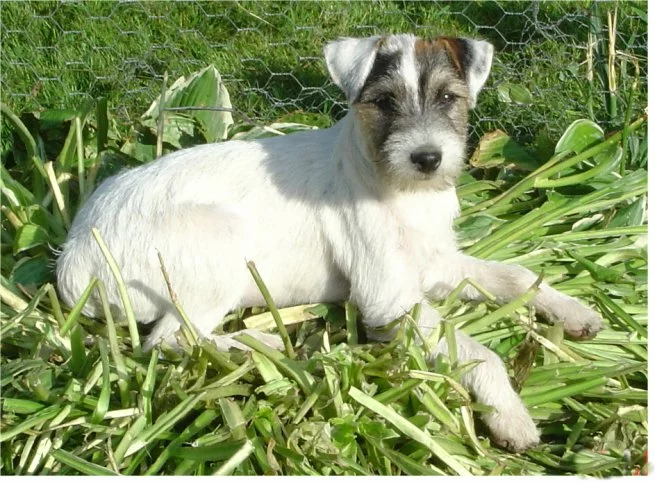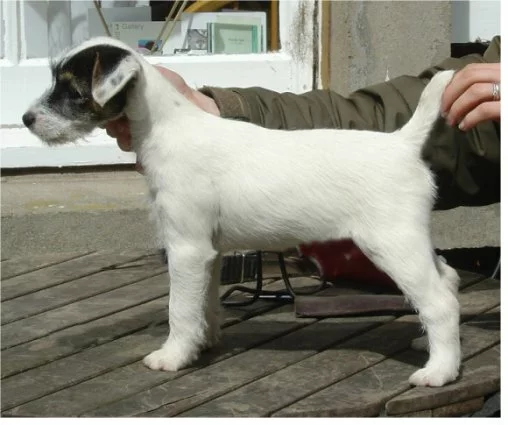 At 6 months old in show pose!...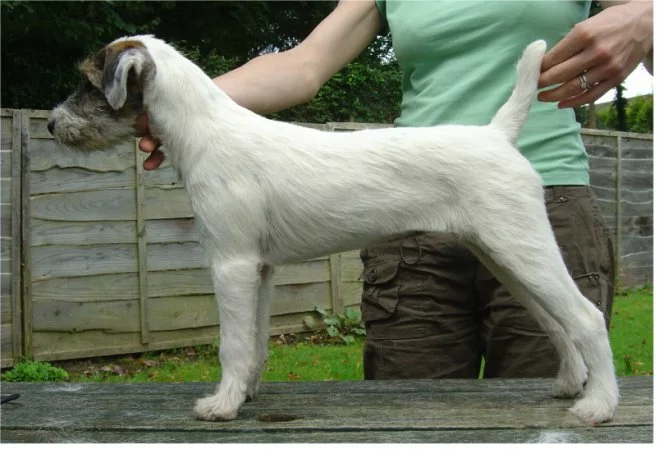 Everlong's sire, Jagen Johny Riplington, Born 28th February 1999...