Champion Alne Foxglove "Clover"
Top PRT bitch 2004
9 Challenge Certificates, 2 Reserve Challenge Certificates
*Best Veteran in Show Parson Russell Terrier Club Champ Show 2010*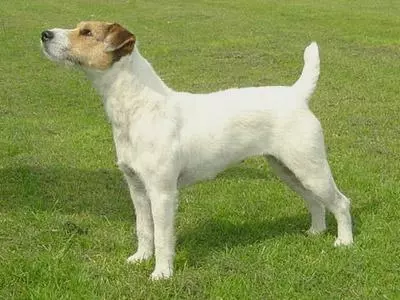 Ch Alne Artic Fox x Ch Winnie the Witch at Hardytown
Born 27 January 2002 (pictured at 2 years of age)
13 & 3/4" at the shoulder
Clover is now very much retired and an old lady but is most definitely the boss (or so she thinks) at Alncroft! She has been round all the shows with us and loves the ring although she is now retired. She has a great temperament and will sit for hours with anyone who wants to make a fuss of her, being very much an attention seeker!
Clover has been the most wonderful producer. In her three litters she has produced -
Ch Alne Little Vixen at Mindlen (Res Top PRT bitch 2005)
Ch Alncroft Tribute to Riplington (Top PRT bitch 2008)
Ch Alncroft Everlong (3 CC's, 3 RCC's)
Alncroft Hemlock of Morgandare (2 RCC's)
Alncroft Arctik (consistent Champ show class winner, RCC winner)
Clover was also the dam of Alne Dawn Run, Best Puppy in Breed at WELKS & East of England 2005 and grand-dam of "Buzz", Champion Pacolito Phantastic at Alncroft - Our Dogs/Pedigree Joint Top Puppy in the UK Competition 2006.
As a show dog, Clover was top Parson Russell Terrier Bitch 2004. She won...
9 Challenge Certificates (five with Best of Breed) won at - Southern Counties '03, National Terrier '04, SKC '04, Paignton '04, Bournemouth '04, East of England '04, National Terrier '05, WKC '04, SKC '06.

Group 2 Scottish Kennel Club May 2006
Best PRT Puppy Crufts 2003.
Pedigree
Champion Alne Foxglove
Born 27/01/02
Champion Alne Artic Fox
Danish Champion Howlbeck Blue Prince
Clystlands Wayfarer
Champion Winnie the Witch of Hardytown
Ardencote Topnotch
Howlbeck Ten a Penny
Clover
Clover's first litter

Alncroft Hemlock of Morgandare
litter brother of Sally & Cola
2 RCC's BPIB Crufts 2008
owned by Jess & Carol Lumbard

Champion Winnie The Witch of Hardytown, Clover's dam. Winnie was the UK's first PRT Champion, made up at the PRT club show 97' where she went BIS. Twice BOB at Crufts